17 Sep

Invitation to the Belfast Power 2 X – Solutions for Net Zero Event

Join us on Friday, 1st of October from 10:00-12:00 UK Time (11:00-13:00 CET) for the "Belfast Power 2 X – Solutions for Net Zero" digital conference, a networking & dissemination event of the BP2X Network and Erasmus+ HySkills project focused on the future of green hydrogen.

The aim of the conference is to navigate into the green hydrogen future and to develop a clear understanding of green hydrogen from both the industry's and the community's perspective.

Through engaging presentations from hydrogen professionals, this comprehensive event shall explore the means for reinforcing a green hydrogen (GH2) economy and to integrate the needs for investment interests, business models, and the GH2 value chain – including skills development through the EU Erasmus+ project, HySkills.

The conference will have a diverse mix of high-level public and private sector presenters.

Registration is free but mandatory for participation in the event.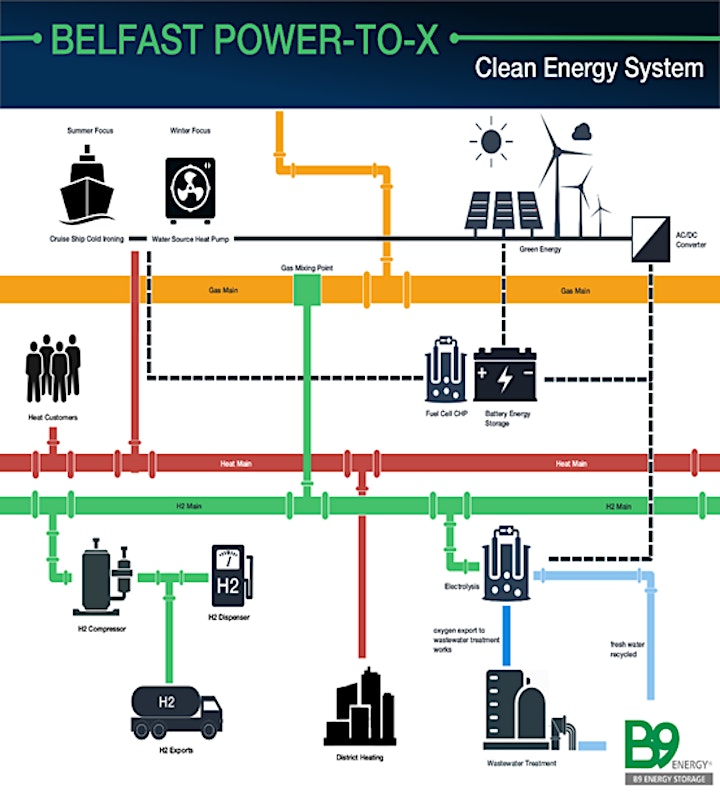 Speakers
Richards Rodgers – Head of Energy at the Department for the Economy, Northern Ireland
David Surplus OBE – CEO, B9 Energy and lead partner of Belfast Power 2-X (BP2X)
Steven Agnew – Head of Renewables NI
Dr. John Harrison – South West College, HySkills Director
Speaker biographies
Richard Rodgers
Richard Rodgers is Head of Energy, Department for the Economy, with over 30 years' experience in the energy industry – British Gas for 8, Phoenix Natural Gas for 12, as MD (International) at Eaga for 5 years, responsible for the delivery of fuel poverty programmes for Governments across the world, Strategic Advisor (Energy) at the Strategic Investment Board for 4 years and for the past 3 years as Head of Energy in the Department for the Economy. Richard was a non-executive director on the Board of the Utility Regulator for 8 years (until March 2019).
Steven Agnew
Steven Agnew is Head of RenewableNI, the trade association and voice for the renewable electricity industry in Northern Ireland. He previously served for eight years as MLA for North Down during which time he chaired the All Party Group on Renewables and sat on the Enterprise, Trade and Investment Committee scrutinising energy policy.
David Surplus – OBE, BSc, CEng, M.I.Mar E.S.T.
David graduated from the University of Newcastle-Upon-Tyne as a Marine Engineer in 1980 and then joined the merchant navy to gain practical experience. In 1992 David, together with 4 others, formed the B9 Energy group of companies which developed and built 10 onshore wind farm projects and became the UK and Ireland's largest independent operator of wind plant with 49 wind farms under contract. Wind farm commissioning, inspection and major component changeout services were also delivered across the USA from an office in Boulder, Colorado. In addition, B9 developed and built Northern Ireland's first utility scale anaerobic digestion power station with a capacity of 90,000 tons per annum of organic waste diverted from landfill. David is now carrying out extensive work on energy storage (including Power-to-X), micro-grids and district heating systems with a view to disrupting the chronic constraints associated with the operation of AD, wind, solar and tidal farms.
In 2000, B9 Energy commenced its involvement in renewably powered transport by investing in electric vans to support their wind farm maintenance work. This has progressed to the production and distribution of road mobile compressed biomethane for stationary power generation and fleet vehicle refuelling applications. B9 are currently specifying a similar solution with compressed hydrogen and have recently acquired 2 x hydrogen fuel cell powered electric buses from Aberdeen City Council.
David is past Chairman of the MATRIX Sustainable Energy Advisory Panel in Northern Ireland and current Chairman of the North South Market Development Steering Group (NSMDSG) on waste management. He was awarded an OBE in the 2015 birthday honours list for "services to renewable energy especially in Northern Ireland".
John Harrison – BSc, PhD
John is an experienced PRINCE2 qualified Project Manager with over 10 years' experience in innovation and renewable energy sectors. He is currently the Project Lead / WP Lead for multiple EU funded/private sector projects, including – RENEWABLE ENGINE – €6.1m Collaborative EU Research & Innovation Project, operating across a network of research institutes, aimed at facilitating direct knowledge transfer and technology development within the Advanced Manufacturing and Renewable Energy sectors, focusing on Energy Generation, Energy Storage and enabling technologies, including Industry 4.0 and AR; FASTER: £5.8m project funded through the EU's INTERREG VA programme will see significant investment in the Electric Rapid Charging vehicle point network across 3 partner regions of Northern Ireland, the Republic of Ireland and Scotland, involving the installation of 73 electric rapid charging points at areas of defined need; HYSKILLS: development of modular training courses enhanced with practical training focused on delivery and implementation of green hydrogen. The project will seek to attain suitable accreditation to allow future workers to become fully competent in key skills for delivery the critical green hydrogen sector.